Discover why attorneys prefer Account Legal over the competition!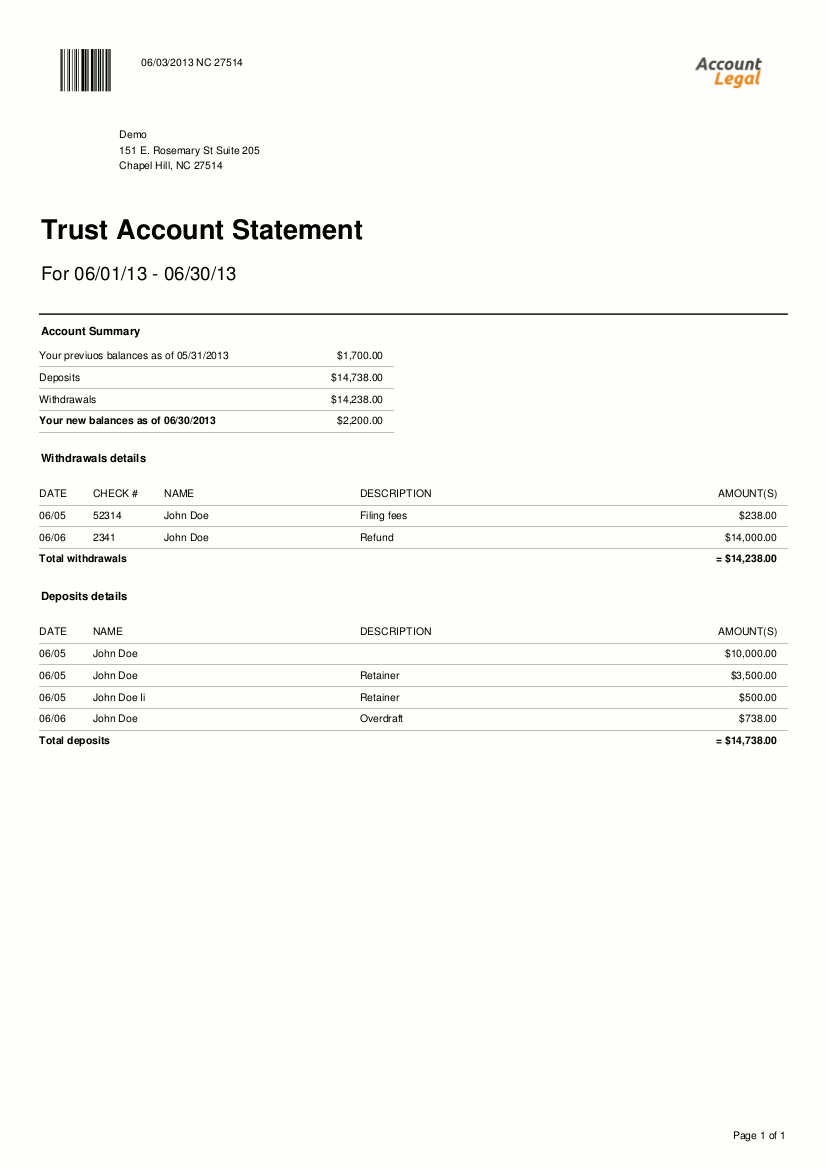 Account Statements
Account statements provide a way for you to reconcile your bank account statements and office records (monthly reconciliations).
Other products do generate this type of statement, but their reports are not editable (print version only), making it nearly impossible to find and correct any problems.
Our flexible system allows you to select a start and end date for each report, making monthly reconciliations a breeze. Our unique editing tools allow you to work directly on your reports before printing them. And our pdf generator tools allow you to print professional-looking statements.
Experience the Account Legal difference.
Individual Balances
Also known as 3-Way Reconciliation.
Be very careful when selecting a trust accounting software; many of the options in the market do not generate individual balances reports – a requirement for quarterly reconciliations. The report they generate creates a false sense of security because, although the report may confirm that the trust account total and the balance shown on the bank statement are consistent, the report does not satisfy the quarterly reconciliation requirements.
Account Legal, on the other hand, does provide a report that satisfies quarterly reconciliation requirements. Do not fall victim to other products that fall short.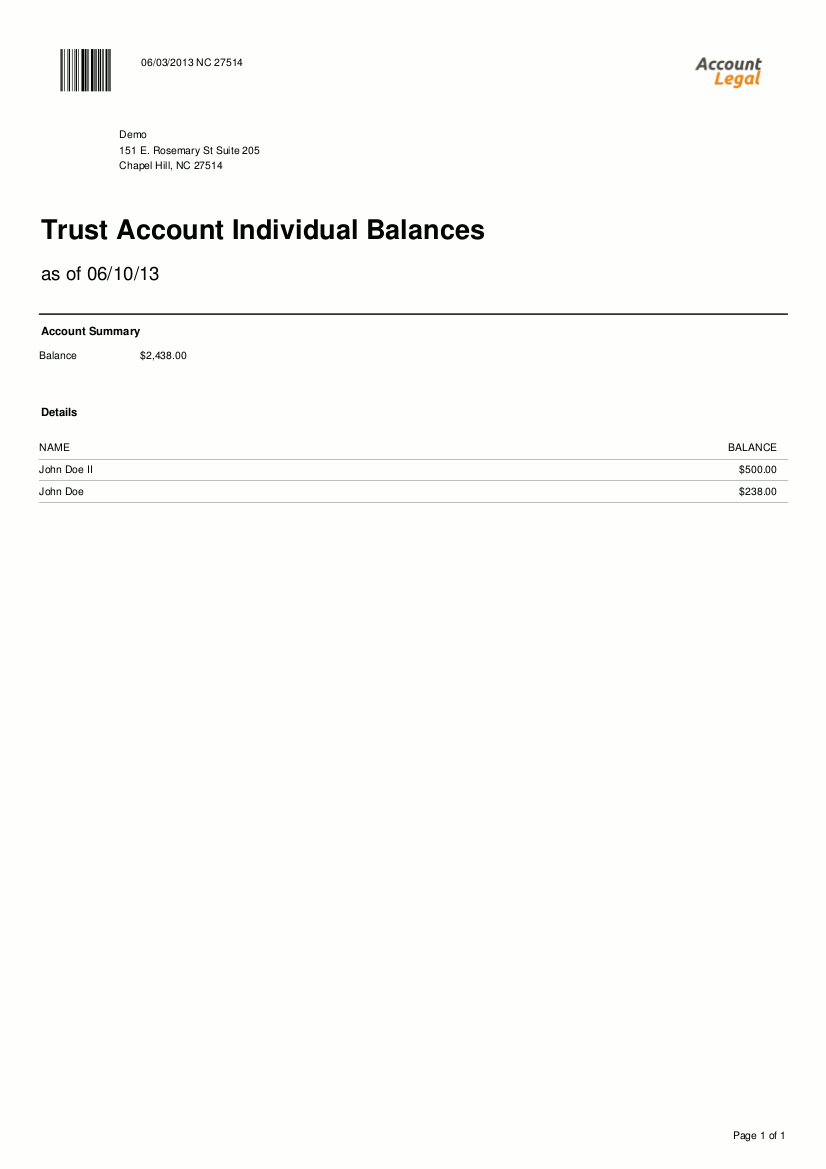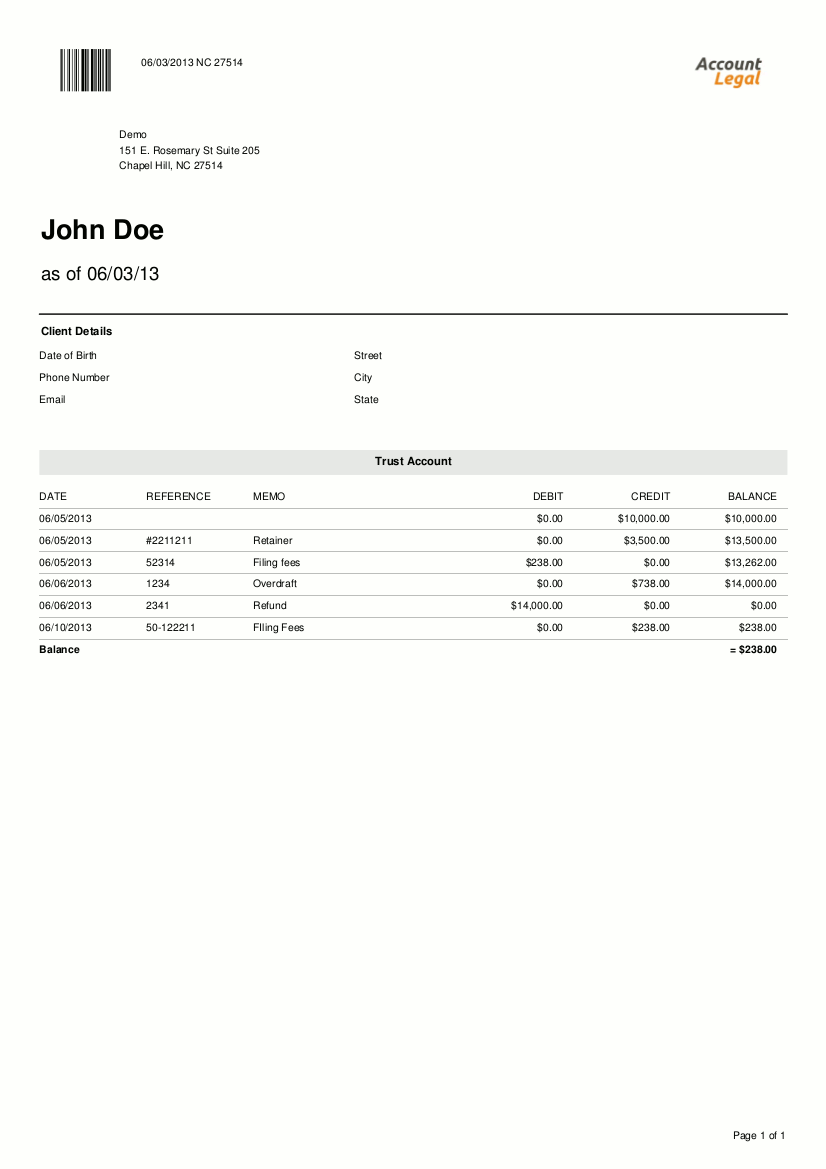 Client's Ledger
Account Legal displays a client ledger every time you select a client. It is convenient to take a look at the client's ledger before writing a check to verify the client's current balance.
When are client's ledgers needed?
Your state may require you to provide an accounting report to the client upon the completion of the disbursement of the client's funds and at such other times as may be reasonably requested by the client.
Also, if trust funds are retained for more than one year, the lawyer may need to provide annual accounting to the client.
Check Printing
New
Try our newly released check printing tool.
Print your own checks; give your clients checks that reflect your professionalism. Account Legal allows you to print checks for every withdrawal in your trust account. Buy pre-printed checks from your bank, and use your office printer to print into the check the DATE, AMOUNT, PAYEE, MEMO, AMOUNT (WORDS) and LEDGER.
Why did we choose to print 1-on-page voucher checks over single checks?
Printing the ledger on the check gives you a last chance to verify that the client has enough funds to cover the check.
It is good practice to give written accountings to the client after any disbursements, especially when their balance has reached $0.
Soon to come: print different types of checks.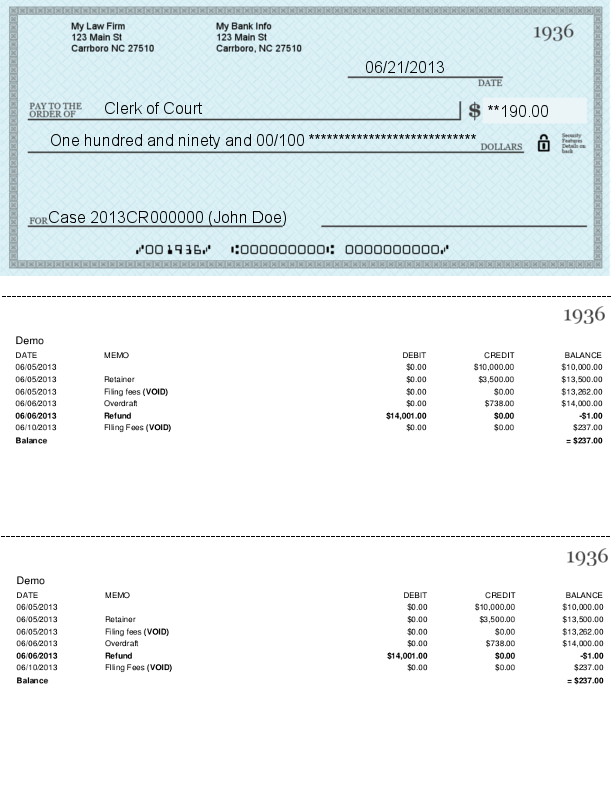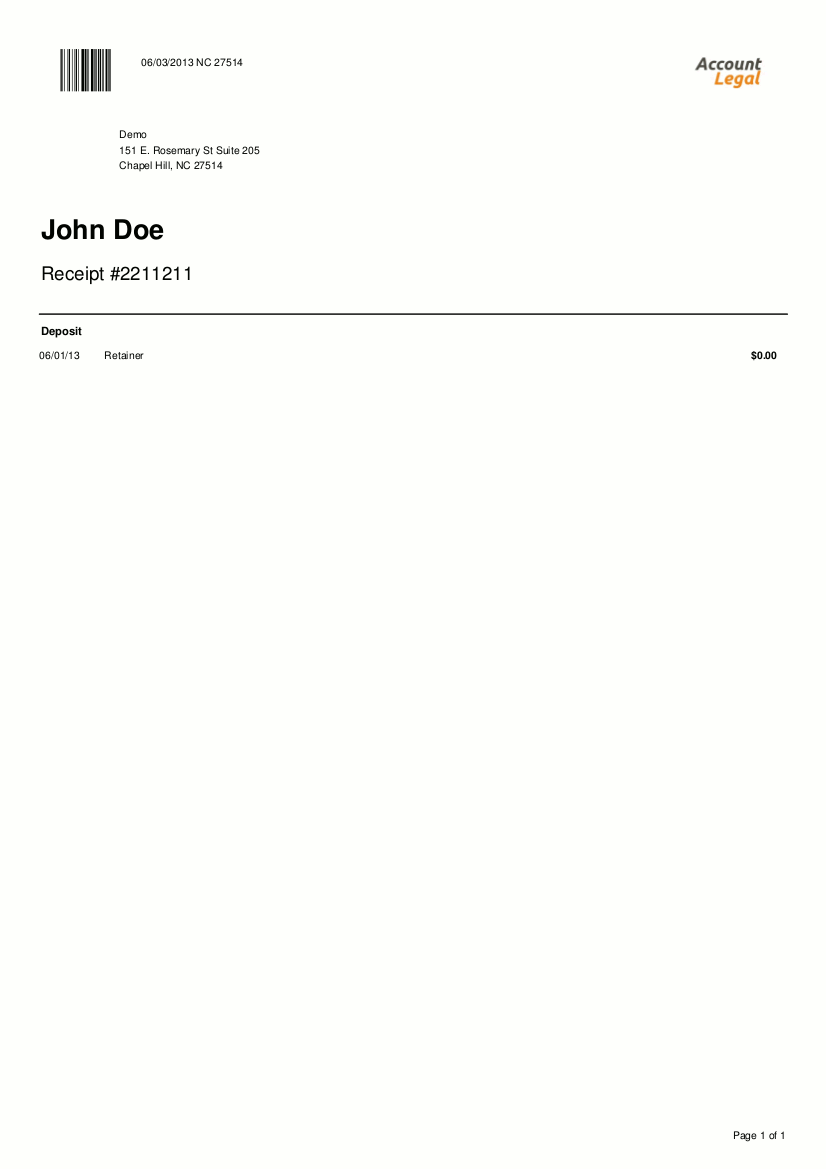 Receipt Printing
First impressions count. Impress your clients with good looking receipts. Our trust accounting software allows you to print receipts for each deposit in your trust account.
Do you need to print a copy of your receipts?
You do not need to print receipts unless your clients ask you to or your State Bar's Rules of Professional Conduct requires it. However, it is advisable to keep a hard copy of all transactions inside your clients' files (deposit slips, check's ledgers, receipts).
Every firm has their own practices and requirements on receipt printing. Account Legal gives you the ability to go paperless if you so desire.
Negative Balances
No one likes making mistakes. However, making mistakes is part of being human.
There are two types of errors when managing a trust account: clerical errors and fund mishandling errors. Clerical errors, usually minor mistakes, happen when inputting the wrong amount or date for a transaction. They can, however, lead to fund mishandling errors. Fund mishandling errors happen when a check is inadvertently written in an amount greater than the client's current balance. This type of error is crucial to identify and fix as soon as possible.
Account Legal helps you avoid making mistakes and helps you identifying them as soon as they happen. You are two clicks away from checking your trust account health with our alerts system.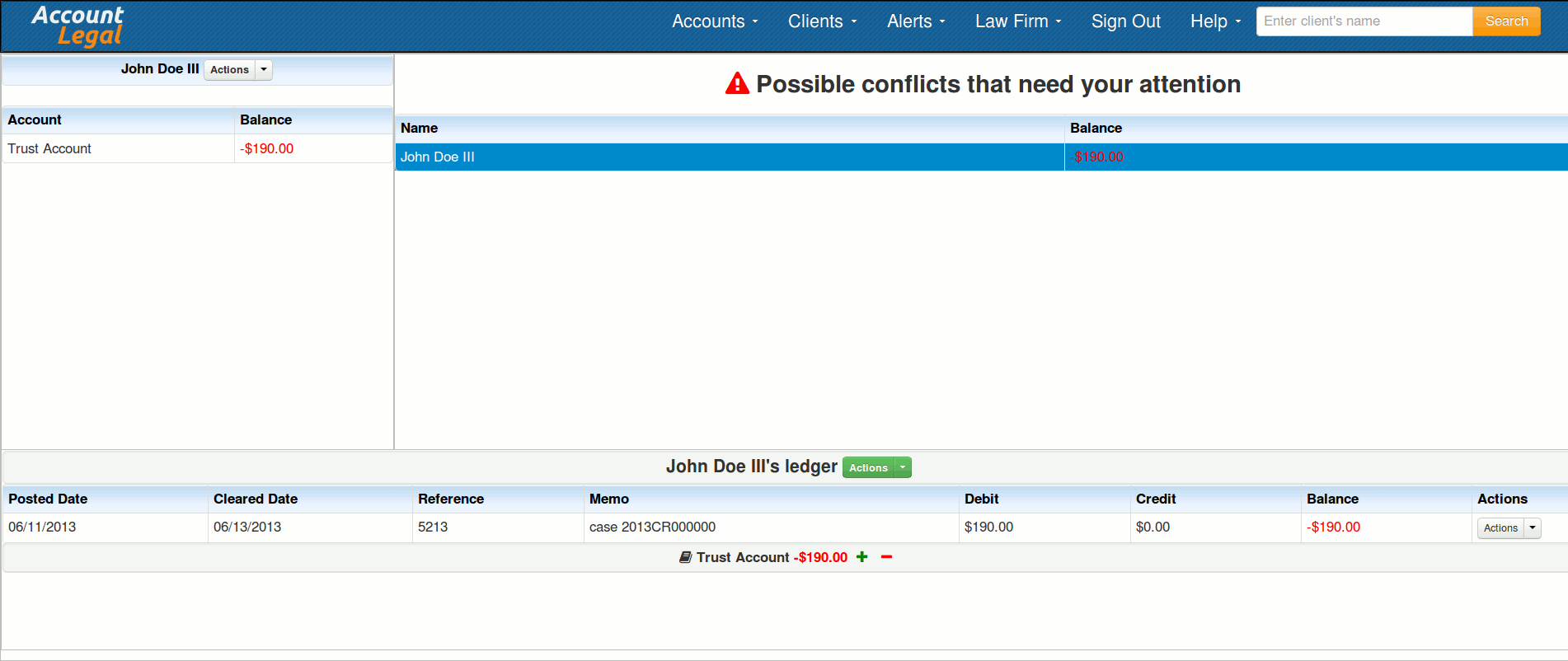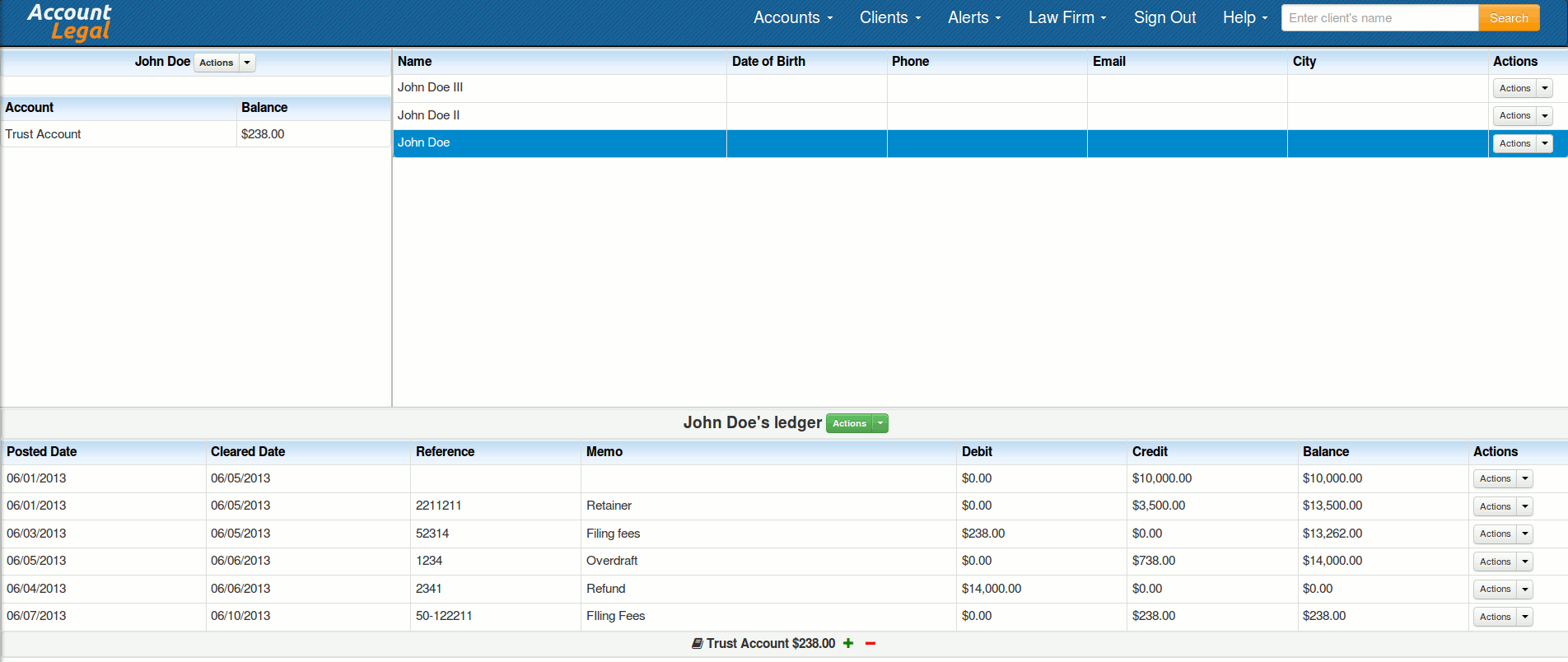 User Friendly
Account Legal abstracts away all the complexities of managing a trust account.
Our trust accounting software is easy to use. We use the best web practices for building solid user interfaces. You will get up to speed in just a few minutes, and our numerous tutorials will help you when in doubt.
Perfection is not a state but a progressive process. We work hard every day to ensure that our product is the best trust accounting software for attorneys available in the market. We always listen to our users. When they experience a difficulty using our product, we make it better.